Hi everyone, sorry it has been so long since my last blog! Since arriving back at university for my third year time has just flown – there have been so many new faces to great and old friends to catch up with. The start of a new year is a good time to reflect how lucky we are to be able to attend university, study something we enjoy and participate in other activities which we love. The excitement at the start of a new year is infectious and you can just sense that the number of opportunities that are going to be thrust your way. I have been brought up in the spirit that you only regret what you don't do and what better time to put that philosophy into action than when starting afresh with a new year at university.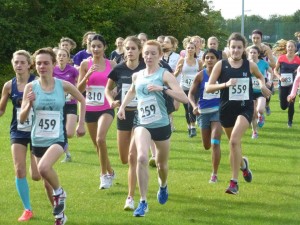 The idea of making the most of every opportunity is of course applicable to whatever stage of life you are at but being in the melee that is Freshers' Fair makes the number of different things you can try blindingly obvious. This year I largely avoided being sucked into the numerous mailing lists on offer but, even though I am a third year, the variety on offer could not be ignored. This year I decided to combine my new found faith with my sport and join the Cambridge Christians in Sport society, a supportive network that operates across the country (http://www.christiansinsport.org.uk/).
For Freshers' in a new place the organised chaos of Freshers' Fair can be a bit daunting. However, if you push on through, university is a great place to try something new or revive an old hobby. Being me, I am obviously going to advocate taking up a new sport, preferably cross country running. There are many reasons to take up a new sport at university of which fitness is almost the least. As an article I recently read (http://www.bluebirdnews.co.uk/ramblings-from-beyond-the-bubble/) puts so eloquently, sport at university allows you to grow and develop as well as producing friends and memories you will treasure forever.
Beyond this, I find that sport is perhaps most important as a coping mechanism. When you are stressed about an essay or fed up with endless reading and study there is no better way to let off steam than to go for a steady plod across Grantchester Meadows or up the river to Fen Ditton. Even though I feel I am not running very well by my standards at the moment, running is still invaluable as a way to clear my head and focus on something other than my seemingly insurmountable work pile.
For those of you not at university, the chance to start something new may not be laid out before at a fair but the opportunities are still there. Everyone will be within a short distance of a park run or a running club so all you need is the drive to go out and discover what it is you are missing out on. You will not regret it!
Liz 🙂