Hi everyone and welcome to the next instalment of my sports blog!
Following the 5,000m at the Athletics World Championships last Saturday Brendan Foster, a former Olympic bronze medallist over 10,000m, declared Mo Farah Britain's 'greatest sportsman'. This claim elevates Farah beyond his sport and compares him to the like to Sir Steve Redgrave and Sir Chris Hoy. Farah is certainly a great sportsman but is he the greatest? I feel I lack sufficient experience in sports beyond athletics to truly assess Foster's claim and therefore I just intend to consider if Farah is Britain's greatest athlete, as he must be if he is to be in consideration as our 'greatest sportsman'.
First of all, how is greatness to be measured? Greatness comes in many forms and athletes who are not multiple World or Olympic champions can still make claims to it through their actions outside of the sporting arena and the legacy they leave behind. Lord Sebastian Coe won two Olympic gold medals but his true greatness can be seen in his role in London 2012 and, hopefully, the impact he has as the new IAAF president. However, I believe that the greatness Foster was thinking of relates simply to success as an athlete in the form of medals, titles and records.
What then is Farah's claim to being the greatest? The recent World Athletics Championships saw him become the first athlete to complete the distance 'tr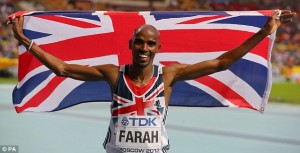 iple double' (gold in the 5,000m and 10,000m at three successive World Championships or Olympics). This brought his gold medal haul up to five World Championship golds, two Olympic golds and five European golds. This surpasses the success any other British athlete has had in these three competitions, including greats such as Steve Cram and Colin Jackson. Indeed, Farah remains unbeaten on the track outdoors since finishing second in the 10,000m in Daegu at the 2011 World Championships. Furthermore, Farah holds the British record at 1,500m, 5,000m, 10,000m and half marathon.
This is a very impressive list of achievements and nothing should be taken away from it. Nonetheless, Daley Thompson, former decathlete with five Olympic, World and European golds to his name, is right to point out that Farah has yet to break a World Record. Farah sits 9th on the all time list for 1,500m and 16th for 10,000m but doesn't even make the top 30 for 5,000m. In 1,500m he is 2.81s off the record while in 5,000m this is 14.2s and in 10,000m 29.04s. This might not sound like much but at the top end of athletics these time gaps are significant. In the 10,000m final at Beijing 2015 the top five athletes were all within 8s of each other.
Despite this, Farah's achievements are still amazing. Distance races are tactical and in order to break a World Record you need someone else to push you along and essentially pace you to it. At the moment Farah could be seen as simply lacking the opponents necessary to push him to his maximum and achieve that World Record. He tops the best times this year in the 10,000m and his 5,000m pb is five seconds clear of the best time this year, although Farah did set his pb in 2011. It could be argued that you can only race the people around you and here Farah is clearly excelling.
However, before labelling him the greatest British athlete ever, the contenders for this title must be considered. I will start doing this in my next blog so I hope that you look forward to reading that!
Hopefully see you then,
Liz