Hi everyone and welcome to my sports blog, primarily focusing on running. I suppose I had better start by introducing myself, my name is Liz Mooney and I am a 20 year old, very enthusiastic cross country runner. I have always been into sport but only seriously took up running a few years ago, joining Gateshead Harriers around Christmas 2012.
When I started at Cambridge University the following September, studying history, I joined the Cambridge University Hare and Hounds (CUHH) and running has become an increasingly important part of my life. I am currently CUHH ladies captain and was thrilled to gain a bronze medal for England at the Home Countries International cross country in Antrim last March.
I feel that this shows it is never too late to take up a sport, especially running. Male distance runners tend to peak in their mid to late 20s and women a few years later but running can be taken up by anyone of any age or ability. Throughout most of my s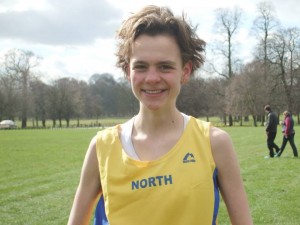 chool career my main interest was hockey. I competed in the occasional 'cross country' race in order to help make up a team but a foray into Gateshead Harriers at the age of 12 only lasted a month or two because I did not enjoy it.
Despite this I was persuaded to give running another go, largely because the only compliment I ever seemed to get in hockey was that I was good at running after the ball. It proved to be the best decision I have ever made. The group I joined at Gateshead was full of like-minded people and introduced me to proper cross country. Running around an athletics track or school playing field just can't compare to the thrill of hills and shin deep mud. The exhilaration of cross country was a new experience and one I was determined to repeat – many people have told me these sentiments make me slightly crazy!
It was joining CUHH that really transformed my unpromising start into performances I could not have dreamed of a year ago. The supporting environment of a university sports club is hard t o beat, as is the inspirational coaching of Phil O'dell.
Being part of CUHH has made my first two years of university and has driven home to me how important sport is, no matter what level you participate at. The club encompasses those of all abilities and mass participation in running is growing nationwide. Sport England's Active People Survey found a total of 2.162million people aged 16 and over took part in athletics for at least 30 minutes a week from October 2013 to October 2014. This was an increase on the figure of 2.016million for the previous year.
Sport is not only good for our physical health; it is good mentally as well, giving you goals to aim for and friends to treasure forever. These benefits are just as available to the slowest runners as the fastest and it is my hope that events such as the upcoming athletics World Championships in Beijing will continue to raise the profile of a sport I love.
Running is great because everyone can do it at their own level and it is never too late to start!
Anyway, enough babble from me. I hope you have found this blog interesting, I intend to add new ones every couple of weeks analysing any developments in the world of running.
Hopefully see you then,
Liz