Hi everyone and welcome to the second instalment of my discussion about whether Mo Farah is worthy of Brendan Foster's claim that he is Britain's greatest athlete. I have decided this title should go to someone who currently holds a British Record otherwise they have been shown not to be the best Britain can produce. There are several people in this category who, in my opinion, challenge Farah's claim to being the greatest. I am planning to compare them to Farah in terms of Olympic, World and European outdoor medals won, records broken and length of time at the top. Clearly these two blogs are assuming the absence of drugs in the careers of any of these athletes and I will tackle the issue of drug taking next week.
When drawing up my list of athletes to consider I came up with the following, the events in brackets are those for which they hold a British record: Paula Radcliffe (5,000m, 10,000m, half marathon, marathon), Jonathan Edwards (triple jump), Kelly Holmes (800m, 1,500m), Daley Thompson (decathlon), Sally Gunnell (400m hurdles), Sebastian Coe (800m), Jessica Ennis-Hill (heptathlon), Steve Cram (the mile), Greg Rutherford (long jump), Colin Jackson (110m hurdles), John Regis (200m) and Iwan Thomas (400m). Sadly the great Roger Bannister is not on this list. His achievement of breaking the four minute mile is one of the great milestones in athletics history but, in my opinion, his greatness lies in a different era of athletics, outside of the realms I believe Foster was thinking of when he made his comment. Bannister never won a medal at World or Olympic level and his World Record only stood for 46 days. His British record was beaten three years later by Derek Ibbotson.
If any athlete can be said to have surpassed Farah then I believe they have to have held both Olympic and World gold medals at some point in their careers because this achievement shows them to have truly been a world beater. This rule excludes Holmes, Coe, Cram, Jackson, Regis and Thomas. Radcliffe is also excluded, despite her World Record and four British records, because she failed to perform consistently throughout her career, never winning an Olympic medal. If you add the Commonwealth Games into the list of medals considered some of the other athletes have surpassed Farah. Only five British athletes have held Olympic, World, European and Commonwealth titles simultaneously –Thompson, Linford Christie (who was banned for drugs during his career), Gunnell, Edwards and Rutherford. However it cannot be denied that Farah is capable of winning Commonwealth gold.
My next category for analysis is in terms of records broken. All six remaining athletes hold a British record but only Edwards currently holds a World Record, which he has held since 1995. Thompson held the decathlon World Record intermittently 1980-1992 and Gunnell held the 400m hurdles World Record 1993-1995. However Ennis-Hill's personal best is 336 points off the heptathlon World Record. Even if she set all of her personal bests in one competition she would still be 155 points off the record of 7291 points which has stood since 1988. Rutherford's personal best is 44cm off the long jump World Record, a very large gap which encompassed the top eight athletes at the recent Beijing World Championships. In my opinion Ennis-Hill and Rutherford can be discounted from being named Britain's greatest athlete because Farah, despite not setting a World Record, does top the leading times this year in the 10,000m. Ennis-Hill sits second in the heptathlon and Rutherford third in the long jump. These two athletes might be winning medals but they are not displaying the dominance currently shown by Farah.
Another area for consideration is how long an athlete was performing at the highest level. So far Farah's gold medals have spanned the period 2010-2015. Thompson won his five gold medals 1980-1986, and Edwards won his four gold medals 1995-2001. However Gunnell won her three medals in just 1992-1994 and therefore failed to produce consistently top class performances for as long as the other three athletes.
This analysis has brought my decision down to Daley Thompson, Jonathan Edwards and Mo Farah. Farah has won more World, Olympic and European gold medals than the other two combined, although it must be remembered that he has the chance to win two gold medals per competition while Edwards and Thompson only had the chance of one. Edwards and Thompson have then both broken World Records during their careers which Farah has yet to do.
Choosing between these three giants of British athletics is not easy but it is my opinion that Jonathan Edwards is the worthy holder of th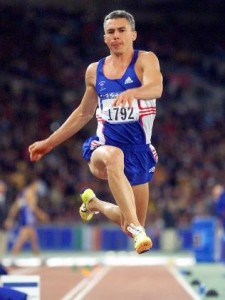 e title Britain's greatest athlete. This is largely due to the fact that he has held the triple jump World Record for an astonishing 20 years but is also due to his consistency, winning a medal in five consecutive World Championships (Daley Thompson only ever won one World Championships medal). Farah is a great athlete and may well become Britain's greatest ever athlete but, in my opinion, he has to keep winning medals for another couple of years and get a bit closer to a World Record.
I am sure many of you will have your own opinions on this topic and I hope that this blog sparks some lively debates and discussions!
See you next week,
Liz