Gender equality is an issue that is close to my heart. I feel that sometimes women are too quick to blame sexism for why things don't work out for them but sexism undoubtedly exists and the glass ceiling is a very real problem. This is the case in sport as well as in business or any other sector of work. Only 18 per cent of qualified coaches are women and almost half of all publicly funded national governing bodies relating to sport have less than a quarter of their board as women (https://www.womeninsport.org/how-were-doing-it/sexism-in-sport/). The pay gap is obvious as well – in 30 per cent of sports men get paid significantly more prize money than women with football, cricket and squash as three of the main offenders (http://www.bbc.co.uk/sport/0/football/29744400). Improvements have been made over the years, such as when the Australian open in tennis began offering equal prize money in 2001 and athletics in 1993, but the job is not complete.
However this bleak picture of inter-national sport is not necessarily reflected across the spectrum. My experience of sport and gender equality while at university has been almost entirely positive and any move towards greater equality have had the full support of all member of the Cambridge University Hare and Hounds (CUHH) so that the situation now resembles one where there is no discernible difference in the treatment of the men and the women.
It is true that there are more men in CUHH than there are women (there are 24 selected male runners for Varsity cross country and only 14 women) but this reflects a national trend rather than anything within the university. Roughly 1.9 million fewer women participate in sport every month than do men and over 2000 men compared to 865 women competed in the National Cross Country Championships last year. Indeed, CUHH has made improvement in this area, the tireless work of the last two ladies captains (Megan Wilson and Katy Hedgethorne) bringing the quality of the ladies side up to a position whereby the number of selected women was increased from 12 to 14.
In all the ways it feasibly could have been, my experience as a female athlete in Cambridge has been one of fair and equal treatment. The men and women train together, have socials together and are in every way one club. It is true that it is easier for this to occur in cross country than sports such as hockey or football given our races tend to be on the same days in the same locations but there is a team spirit in CUHH that pays no attention to gender. This attitude has always been prevalent in CUHH with the ladies Varsity match being on the same day and in the same location as the men's since its conception in 1976. Our current junior committee had 8 women and 12 men, a balance which accurately reflects membership of the club.
While I cannot pretend that CUHH's track record is one of gender equality throughout every stage of its history, I can say that every time an inequality is pointed out all members of the club have supported it being changed. This has been most noticeable in the criteria with which a full blue, Cambridge's highest sporting accolade, is awarded. When I arrived at the university two years ago it was significantly easier for man to gain a full blue than a woman. Every man who ran in the blues Varsity match and beat a scoring Oxford runner was awarded a full blue whether they won the match overall or not. However, for the ladies only four of the six blues Varsity match contend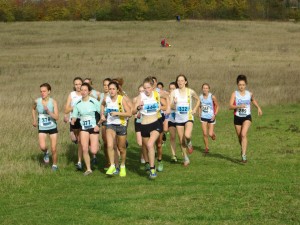 ers were eligible for their full blue and even then only if the team won the match overall. I fell fowl of this absurd rule in my first year, being awarded a half blue after Varsity despite beating five out of Oxford's six runners. Thankfully this system has now been changed (Katy Hedgethorne succeeded in changing it in 2014 and then I got in changed again last term to take into account the increased size of the blues team) so that the criteria for a female full blue are the same as the male criteria. I in no way wish to devalue the full blues awarded to the men before this change – gaining a full blue is an exceptional achievement and it is the ladies criteria that has been changed to ,match the men's not the other way around. I just wish to point out that the existence of a blatant inequality like this in 2013 was shocking to me but that CUHH have successfully removed this issue.
Cross country running is still not entirely equal – the ladies blues match is disproportionately short when compared to the men's match. CUHH has been entirely behind me in my attempts to solve this by lengthening the course but the move has been blocked by our counterparts in Oxford. They wish to address the balance by shortening the men's race and a solution has yet to be reached.
I have nothing but praise for CUHH when it comes to gender equality and fair attitudes, it is just a pity that my experience at university is not reflected nationwide.
See you next week!
Liz